Ella Pro Smart AI Robots for Bank , This Interactive Service Robot,Intelligent Robot,Humanoid Robot can communicate with people, and it is suitable for hotel, bank and hospital etc. It can also abstract more people and reduce labor costs. It is with Voice dialogue and control , Trackless navigation and obstacle avoidance. It also named Talking Interactive Robot,Intelligence Service Robot,Robot For Intelligence Service.
Ⅰ.Precautions for use:
1.Do not turn off the power frequently during system operation to avoid accidental product failure. Before the robot shuts down, click the Shut Down button in the software interface. If the operation is not standardized, it is easy to cause damage to the product.
2.Care should be taken to use the [emergency stop switch", which will affect the life of the product, non-special circumstances, and use as little as possible.
3.This product is a high-precision product. Do not disassemble it yourself. Do not replace any parts of this product.
4.During the operation of this product, do not open the case to avoid accidental contact with the electronic running parts of the product, thus causing unnecessary damage to people or products.
5.Avoid collision and collision with this product.
6.During the operation of the product, do not force the operation mode of the robot to avoid unnecessary damage to personnel or products.
7.Please use the original charger to charge the product in the care environment. Unplug the charger immediately after charging.
8.Only batteries, chargers and accessories specified by the manufacturer are allowed. Use of any other type of product will violate the warranty and may be dangerous.
9.Gently wipe the product case with a damp cloth. Do not wash with other chemical solutions. The built-in electronic components of this product should be strictly waterproof and moisture-proof.
10.Dispose of used products and accessories in accordance with local environmental regulations.
11.To prevent data loss, it is recommended that users back up important data stored, especially before software and firmware upgrades. The company is not responsible for the loss caused by data loss.
12.When returning the product for repair, the company will erase all data from the product and restore it to the factory default settings.
13.products are subject to change without notice. sorry for the inconvenience.
14.If you have any problems using this product, please contact our Customer Service Center directly. Ⅱ.Applicable place
1.Office 2. Hotel 3. Bank 4. Airport 5. Station 6. Supermarket 7. Cinema.
Ⅲ.Product advantages:
1.Installation service and after sales service
Different from other companies, our company can provide on-site installation services and quality life-long non-human damage after-sales service.
2.Attract customers and reduce labor costs
Places with robots will be more recognizable, attracting a large number of guests and reducing labor costs.
3.Easy to operate
After the robot is successfully installed, it only needs to be charged and turned on and off during use, without any complicated operations. Ⅳ.Product Features:
1.Auto Charging: A robot with a charging post can automatically charge when the battery is low.
2.Voice dialogue and control: People and robots communicate, not only rely on fixed statements, but also intelligently answer questions - people and robots can communicate freely; you can also control the robot to reach a specific location, for example: please take me to ***, robot Will lead in place.
3.Trackless navigation and obstacle avoidance: Robot motion is based on Lidar to achieve navigation; navigation can have a fixed route or a specified point-to-point; in the case of obstacle avoidance, the robot will adopt different obstacle avoidance schemes according to different situations. After the obstacle avoidance process, the robot will continue on the original route.
4.Active welcome function: When the robot detects the user, it can actively cater to the guest.
5.Route display, in place: When a user voice "problem path" or floor plan is displayed on the robot chest screen by clicking on a direction, the robot can direct the user to the specified location.
7.Swipe function (custom function): It can realize the collection of file information such as membership card, bank card, ID card, etc., and realize some functions through the collected information.
8.Emergency stop switch: When the emergency stop switch is pressed, the movable part is de-energized and the robot stops.
9.Human-computer interaction interface: According to the application requirements of the client, different human-computer interaction operations are performed according to different application scenarios; according to the robot activity scene, a certain floor plan of the building can be displayed on the display screen, and the user touches the screen to let the robot arrive. Specify points; pictures and videos can be played according to customer requirements; displayable items such as power, date, settings, etc. can be displayed on the screen and touchable items can be touched (for example, setting up robot networking). Ⅴ.Product parameters:
Product Name:Ella Pro
Size:L550*W520*H1500mm
Pad size:23.8 inches
Running Speed:0.3-0.7m/s
Total Weight:62KG
Obstacle avoidance detection distance:0.4m
Turning Radius:0.5m
System:Android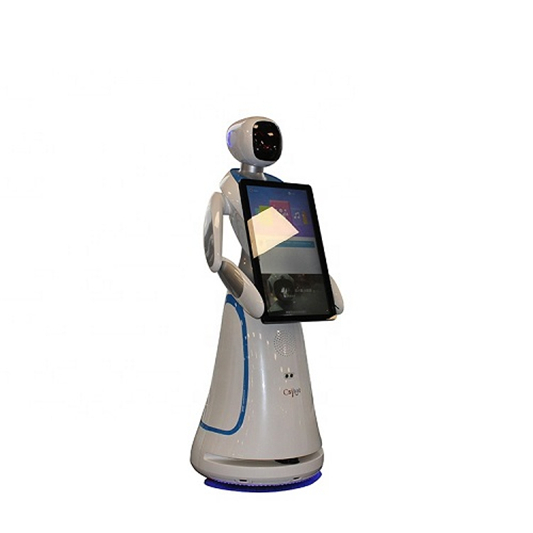 Looking for ideal Smart Robot For Bank Manufacturer & supplier ? We have a wide selection at great prices to help you get creative. All the Smart
Bank Robot
are quality guaranteed. We are China Origin Factory of Smart AI Bank Robot. If you have any question, please feel free to contact us.
Product Categories : Service Robot > Bank Robots