Eva Welcome Interactive Talking Bank Robots
Product Features:
1.Intelligent voice dialogue: people and robots communicate, not simply rely on fixed statements, robots can randomly pick up answers to questions from the network - people and robots can communicate freely.
2.Face recognition and tracking: After the robot can register through the user's face, the next recognition can be performed.
3. Touch screen human-computer interaction:
(1)Single touch;
(2)The screen can display the floor plan of the living room of the room, the user can touch the touch screen to make the robot reach the designated point;
(3)The communication content between the user and the robot will be displayed on the screen;
(4)Can play a variety of audio and video files.
4. Arm joint intelligent movement:
When the owner touches the head of the robot, the arm of the robot will swing up and down.
5. Trackless navigation and obstacle avoidance:
(1)Robot motion does not need to rely on external constraints such as magnetic strips, and only a laser sensor can be used to achieve autonomous navigation and obstacle avoidance;
(2)The scanned map can be restored after the next startup;

(3)Scan the map can add a few fixed room points; round-trip patrol between the points.
Ⅰ.Product parameters

Product name:Eva
Physical dimension:1120mm*600mm*550mm
Total Weight:About 36kg
Move way:Wheel differential
Walking speed:0.3--0.5m/s (default0.4m/s)
Display size:13.3-inch touch screen
Navigation method:Laser autonomous navigation / APP remote control
Charging method:Manual / AC 220V + original charger
Obstacle avoidance type:Obstacle avoidance/blocking
Battery capacity:30AH
Service Time:≥12hours
Charging time:8-10hours
Appearance material:Adopt environmentally friendly ABS materials
Ⅱ.Applicable place:
1.School 2. Hotel 3. Bank 4. Airport 5. Station 6. Supermarket 7.Office
Ⅲ.Product advantages:
1.Easy to operate
Mobile APP control: The mobile phone can realize the navigation control of Eva by downloading the APP software (currently supports iOS and Android systems).
2.Installation service and after sales service
Different from other companies, our company can provide on-site installation services and quality life-long non-human damage after-sales service.
3.Attract customers and reduce labor costs
Places with robots will be more recognizable, attracting a large number of guests and reducing labor costs.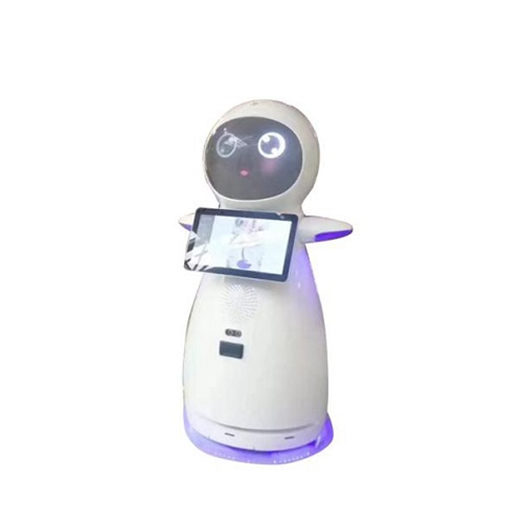 Product Categories : Service Robot > Bank Robots