Daisy Interactive Talking with People Bank Robots Sound Technology
Enjoy the 360 ° level sound
Play music that can be set in the mood of events, different nodes to output different voice.
Mellow overall sound even in noisy areas you can listen very clearly.
Cloud System
Data processing functions
The goal of cloud computing is to allow users to take benefit from all of these technologies,
Applications: banking, public places such as hotels, restaurants, airport, Museum of science and technology. Communication & Coordination
Daisy shows activities in Exhibition,Event,showcase,Restaurant,commercial spaces
Convenient Bank queuing,handle business .Guide shopping in supermarkets, shopping malls
welcome the customers, Guide and introduce in hall, Line up, buy a ticket in cinema
Ordering a meal and guide seats in a restaurant Guide route in Airports, railway stations.
Advanced Business Solutions
Advanced sensor support, more attentive service, but surprises more than.
This More suitable business scenario, has a strong technical team, according to the customer's business environment,
Development of customized systems,
Queue management
,Windows distribution
,Business classification
,Call function
,Query management
,Billing queries
,Business inquiries
,Business consulting Quick Details
Place of Origin:
Henan, China (Mainland)
Model Number:
Daisy
Function:
Multifunctional
Usage:
Laptop
Height:
155
Weight:
60kg
Color:
multi color option
Control Mode:
APP
Screen Size:
multi option
Product Type:
Humanoid AI Robot
Item:
Smart Robot Controller
Packaging & Delivery
Selling Units:
Single item
Single volume:
1 cm 3
Single gross weight:
100.0 kg
Package Type:
Inner packing with PE foam,outer packing with wooden box which is strong enough for transport. Lead Time :
Quantity(Piece) 1 - 1 2 - 5 6 - 10 >10
Est. Time(day) 5 10 20 To be negotiated Ⅰ.Applicable place:
1.Office 2. Hotel 3. Bank 4. Airport 5. Station 6. Supermarket 7. Cinema.
Ⅱ.Product advantages:
1.Easy to operate
After the robot is successfully installed, it only needs to be charged and turned on and off during use, without any complicated operations.
2.Attract customers and reduce labor costs
Places with robots will be more recognizable, attracting a large number of guests and reducing labor costs.
3.Installation service and after sales service
Different from other companies, our company can provide on-site installation services and quality life-long non-human damage after-sales service.
Ⅲ.Product Features:
1.Expression display:Different expressions are based on different application scenarios to enhance human-computer interaction. The content of the expression can be replaced by the user.
2.Human-computer interaction interface:According to the application requirements of the client, different human-computer interaction operations are performed according to different application scenarios; according to the robot activity scene, a certain floor plan of the building can be displayed on the display screen, and the user touches the screen to let the robot arrive. Specify points; pictures and videos can be played according to customer requirements; displayable items such as power, date, settings, etc. can be displayed on the screen and touchable items can be touched (for example, setting up robot networking).
3.Voice dialogue and control:People and robots communicate, not only rely on fixed statements, but also intelligently answer questions - people and robots can communicate freely; you can also control the robot to reach a specific location, for example: please take me to ***, robot Will lead in place.
4.Intelligent movement of the head and arm joints:the robot's arms and head will have simple intelligent movements.
5.Trackless navigation and obstacle avoidance:Robot motion is based on Lidar to achieve navigation; navigation can have a fixed route or a specified point-to-point; in the case of obstacle avoidance, the robot will adopt different obstacle avoidance schemes according to different situations. After the obstacle avoidance process, the robot will continue on the original route.
6.Active welcome function:When the robot detects the user, it can actively cater to the guest.
7.Route display, in place:When a user voice "problem path" or floor plan is displayed on the robot chest screen by clicking on a direction, the robot can direct the user to the specified location.
8.Introduction and description function:Users can input the language content of the description or introduction through the touch screen, and can set the target point and the specified statement.
9.Print scene ticket (custom function):Install the printer inside the robot.
10.Swipe function (custom function):It can realize the collection of file information such as membership card, bank card, ID card, etc., and realize some functions through the collected information.
11.Emergency stop switch:When the emergency stop switch is pressed, the movable part is de-energized and the robot stops.
Ⅳ.Product parameters:
Host size: 1500×515×515mm
Total Weight:About 60kg
Mobile mode:Wheel differential
Walking speed:0~0.7m/s
Navigation method:Lidar SLAM/APP remote control
Charging method:AC 100~240V manual
Battery capacity:24V 40A·h
Service Time:≧12hours
Charging time:≤8hours
Appearance material:Adopt environmentally friendly ABS materials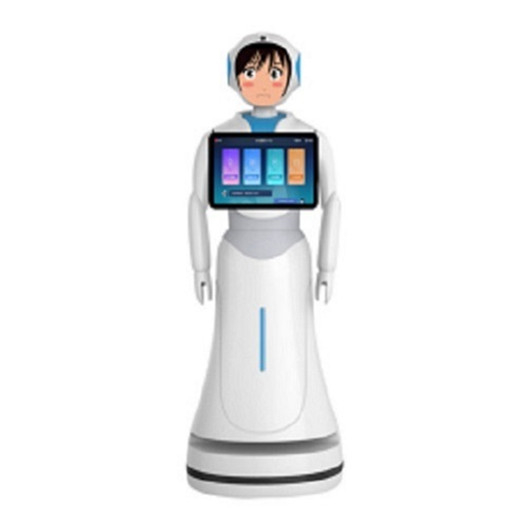 Product Categories : Service Robot > Bank Robots