Mark Restaurant Robot Food Delivery Service-oriented & Integrity Protection
We hold the saying, always making you satisfied and client comes first, as our company creed,we keep improving our service to reach clients' demand, after years accumulation,our business expand over the world.
A good fame are priceless and irreplaceable.
Well trained Team
We have a high efficiency team,which imporves customer experience and provides top class maintenance. They have been focusing on it for years, any problem can be solved perfectly.Now we truly deserve the good fame that has been earned over the world. Trade Assurance
We are supplier of Alibaba trade assurance, which will get full protection for your orders:
1.100% Product quality protection
2.100% On-time shipment protection
3.100% Payment protection
If we fail to ship your products on time or the product quality does not meet the standards set in your contract. Ⅰ.Applicable place: 1.Restaurant 2.Hotel 3.Cafe 4.Bar 5.Exhibition Ⅱ.Product advantages:
1.Installation service and after sales service.
Different from other companies, our company can provide on-site installation services and quality life-long non-human damage after-sales service. 2.Attract customers, increase turnover, increase visibility.
Restaurants that deliver robots are often more famous than restaurants without robots, so they attract more guests. 3.Easy to operate.
The controller can click on the LED screen to automatically provide a meal, which is easy to operate. Ⅲ.Product Features:
1.Track navigation.
According to the electronic map, the robot sends the dishes to the designated table and then plays the name of the dish.
2.Automatic induction return.
When the customer takes the food, the robot will detect and say, [Thank you, enjoy your meal!" and then return automatically.
3.Automatic obstacle avoidance.
There are two obstacle avoidance sensors under the robot board and in front of the base. The purpose is to prevent the robot from colliding on the road: when the robot is in front of the robot, the robot will stop immediately when the person stops in front of the robot or passes in front of the robot. And broadcast the voice "There are obstacles ahead, please avoid, thank you." After the front person leaves, the robot continues to move forward.
4.Automatic calibration route.
Once the robot is off track, it automatically calibrates to the specified path within the error range.
5.
Advertising.
You can set up a dish advertisement in the sale. Ⅳ.Product parameters:
Product Name: Mark
Color: Blue,Red,Green
Height: 155cm
Weight: 30kg
Battery: Lithium
Charging: 5-6 hours
Service Time: 6-8 hours
Plate Size: 45*35mm
Load: 5kg
Speed: 0.2-0.6m/s
Shell: ABS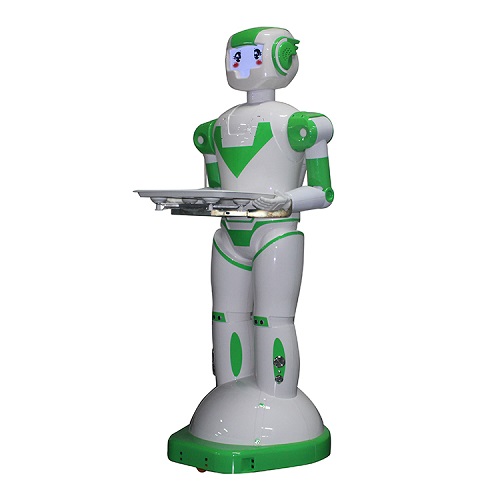 Product Categories : Waiter Robot > Restaurant Waiter Robot