Goddess Automatic Food Delivery Waiter Robot Intelligent
Ⅰ.Product Features:
1.Intelligent voice systemIntelligent voice system
When the food arrives, play the table number and the name of the dish.
2. Expression conversion
According to the facial expression recognition system, the robot automatically performs the corresponding expression change.
3. Automatic obstacle avoidance
In the case of obstacles in front, the robot senses obstacles through the body's three laser sensors and performs obstacle avoidance sensing within a set safe distance (0.4-1 m).

4.Magnetic positioning
RFID tags are placed at fixed points to create map data (dashed plane).
In a special location, the built-in chip triggers special commands (left turn, right turn, obstacle avoidance, turn, meal delivery, return).
5.Automatically change speed
Collect information through the built-in chip, automatically identify the food delivery environment, and adjust the meal delivery speed. Ⅱ.Applicable place: 1.Restaurant 2.Hotel 3.Cafe 4.Bar 5.Exhibition Ⅲ.Product advantages:
1.Installation service and after sales service
Different from other companies, our company can provide on-site installation services and quality life-long non-human damage after-sales service. 2.Attract customers, increase turnover, increase visibility
Restaurants that deliver robots are often more famous than restaurants without robots, so they attract more guests. 3.Easy to operate
Operators can control multiple robots simultaneously through the mobile app. Ⅳ.Product parameters: Size:650*560*1560mm
Plate size:345*245mm
Battery capacity:40 A·h
Rated power:50 W
Total weight:40KG
Running speed:40-80cm/s(adjustable)
Obstacle avoidance detection distance:0.4 m
The weight that the plate can withstand:10KG
Turning radius:50cm
Food delivery direction:Steering 70 degrees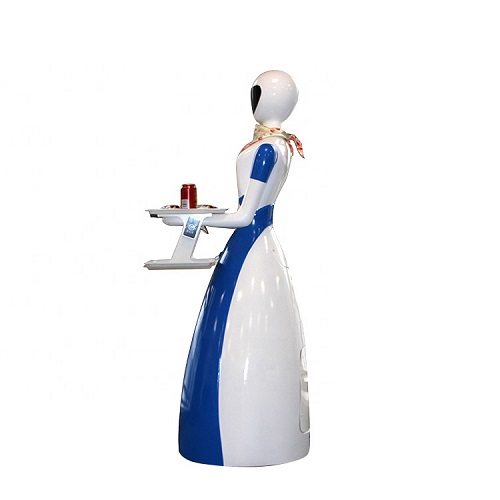 Product Categories : Intelligent Robot > Waiter Intelligent Robot