Goddess Automatic Food Delivery Intelligent Waiter Robot Working Principle After the seat number is given on the remote control, the robot follows the circular track of the designated seat, and if the customer is in a hurry, the time required for the service can be adjusted. When they arrive at a specific seat, the robot turns to the customer and politely greets the person: "Hello! This is your order, please enjoy." Then, after the customer takes the food out of the tray, the machine says, "If you Nothing else is needed, please touch my head." When the customer taps the head, the robot will automatically transfer to another guest.
The robot runs along the magnetic strip on the ground. They can carry food trays, greet customers and even communicate through a series of simple phrases. Through optical or magnetic sensors, the robot knows exactly where to stay in the restaurant and returns to the kitchen when the food is delivered. Ⅰ.Product Features:
1.Intelligent voice system
When the meal arrives, play the table number and the name of the dish; 36 voice interactions, collect customer demand data, and freely change live music as needed.
2.Facial expression conversion
Automatically perform corresponding expression changes based on facial expression recognition.
3.Obstacle avoidance sensor
In the case of an obstacle, the laser sensor is sensed through three different parts of the fuselage, and obstacle avoidance sensing is performed within a set safety distance (0.4-1 m).
4.Magnetic positioning
RFID tags are placed at fixed points to create map data (dashed plane).
In a special location, the built-in chip triggers special commands (left turn, right turn, obstacle avoidance, turn, meal delivery, return).
5.Automatically change speed
Collect information through the built-in chip, automatically identify the food delivery environment, and adjust the meal delivery speed. Ⅱ.Applicable place: 1.Restaurant 2.Hotel 3.Cafe 4.Bar 5.Exhibition Ⅲ.Product advantages:
1.Installation service and after sales service
Different from other companies, our company can provide on-site installation services and quality life-long non-human damage after-sales service. 2.Attract customers, increase turnover, increase visibility
Restaurants that deliver robots are often more famous than restaurants without robots, so they attract more guests. 3.Easy to operate
Operators can control multiple robots simultaneously through the mobile app. Ⅳ.Product parameters: Size:650*560*1560mm
Plate size:345*245mm
Battery capacity:40 A·h
Rated power:50 W
Total weight:40KG
Running speed:40-80cm/s(adjustable)
Obstacle avoidance detection distance:0.4 m
The weight that the plate can withstand:10KG
Turning radius:50cm
Food delivery direction:Steering 70 degrees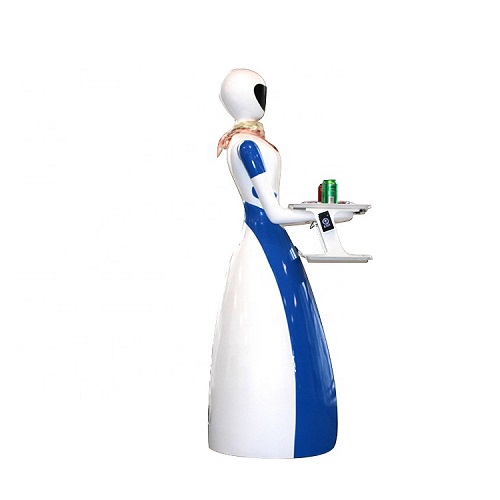 Product Categories : Intelligent Robot > Waiter Intelligent Robot